OUR BOYS
Leonardo of the Hellacious Acres (Imp Ned)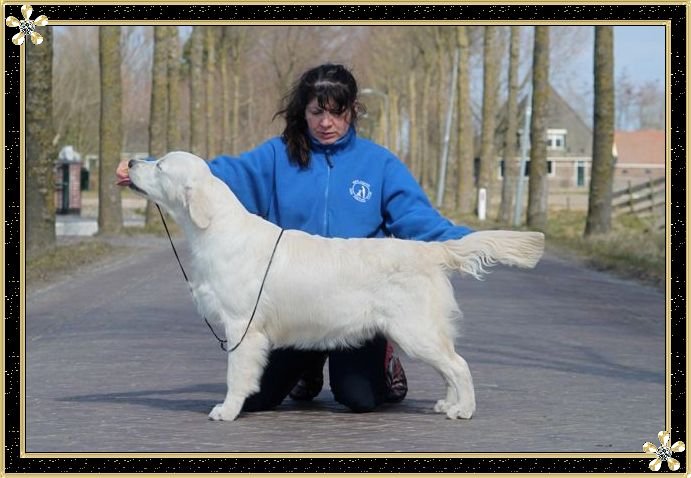 Sire: International Champion Beethoven of the Hellacious ~ Dam Ch Jacquetta of the Hellacious Acres
We welcome our gorgeous boy to Australia, Bred in the Purple at the world renown "Hellacious Acres Kennels" in the Netherlands. We are forever grateful to Bart and Charmaine for the opportunity to own Leonardo.

He is a dream come true, standing at stud at Montego kennels and Goldrush Kennels Qld, we are thrilled to have him with us.

Leo has now completed his Health Testing with Excellent Results:

Hips 2/2
Elbows 0/0
Clear Heart
Clear Eyes
ICTA Certified

Leo is now available at Stud to approved bitches.

Jnr Ch. Serbia, Macedonia, Moldova, Montenegro, San Marino, Azerbajean
RAMCHAINE FAN DABBY DOZY (Imp Netherlands) - "Fabio"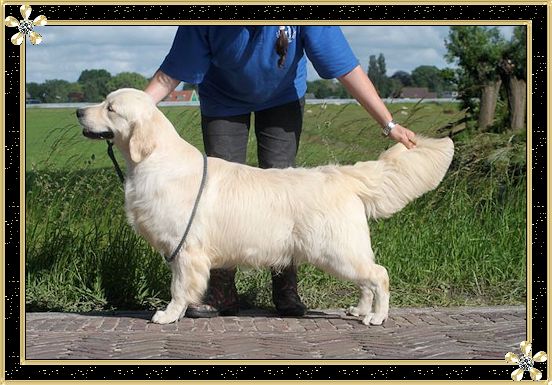 Sire: nt ch.Jnr Ndlds/German Ch. German Ch. Netherlands Ch. Danish Ch. VDH Champion Beethoven of the Hellacious Acres ~ Dam: Int.Ch.Netherlands Ch., Luxembourg Ch. German Ch. Junior Warrant, 2 UK CC's Velvenya Vogue of Ramchaine
"Fabio" would be the most titled Golden Retriever import to come to Australia, holding six Jnr Championships from six countries His pedigree incorporates the top dogs of Europe and UK.

"Fabio" is a Best in Show all Breeds winner and a Runner Up Best in Show (all breeds) in Europe (photo shows him being awarded Best In Show)

His mother is the outstanding bitch, International Show Champion, Luxembourg, Netherlands and German, VDH Champion Velvenya Vogue of Ramchaine, "Vogue" is also the winner of 2 Engish CC's AND holder of her JW.

Fabio has completed his Health Checks with the following outstanding results:

2/3 Hips
0/0 Elbows
clear Eye Cert
Clear Heart Cert
ICTA Certificate

"Fabio" is co-owned with Rose Easton - "Montego" Golden Retriever Kennel.
We look forward to his future with us. He is a proven Stud dog.
All enquires for Fabio to Rose Easton - Montego kennels (Established 1969).

Aust Ch Gunarryn Starlight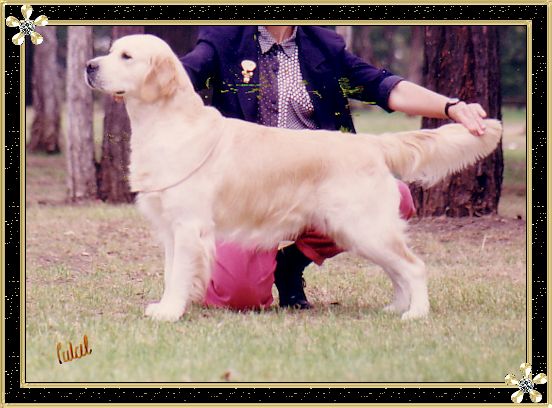 He was obtained from Gunarryn Kennels and when mated to Aust Ch Montego Hearts and Roses produced 3 champions for Goldrush including a Bitch Challenge at the Sydney Royal.

Aust Ch Montego Just Cruising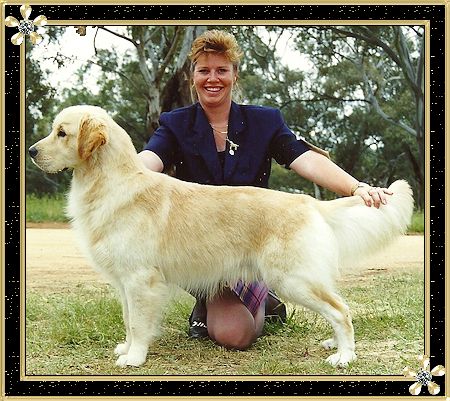 Sire: Goldtreve Gamekeeper ~ Dam: Aust Ch Montego Maid in Heaven
"Cruise" was my dream boy winning from his first show Multi Group Awards - a Best in Show winner.
"Always in our hearts, Rest in Peace".